Discover a region, language and culture like no other
Lush green mountains, chalet-style houses and the echoing ring of goat and cow bells give the Basque Country an almost alpine feel, while a strong cultural and culinary identity make it a region unlike any other part of Spain. 
On our recent visit we were charmed by arty cities, stunning coastal landscapes and afternoons drinking txakoli wine in rural town squares. We found hikers conquering the Camino pilgrimage trail, fishing villages where chefs grill the day's catch straight off the boat and long avenues perfectly set up for nights of bar hopping and delicious pintxos.
SEE ALL PLACES IN THE BASQUE COUNTRY
Everything you need to know
The Spanish Basque region runs across the coast of northern Spain from Bilbao to San Sebastian and inland, in a roughly tapering shape, to Logrono. Its language (Basque/ Euskara) is unrelated to any known living tongue and this, among other things, has led to a distinct and fiercely-preserved identity. It has its own sport, pelota, and its own version of tapas, called pintxos. The main airports are in Bilbao and San Sebastian but to avoid flying you can take a ferry to Bilbao, these sail twice a week.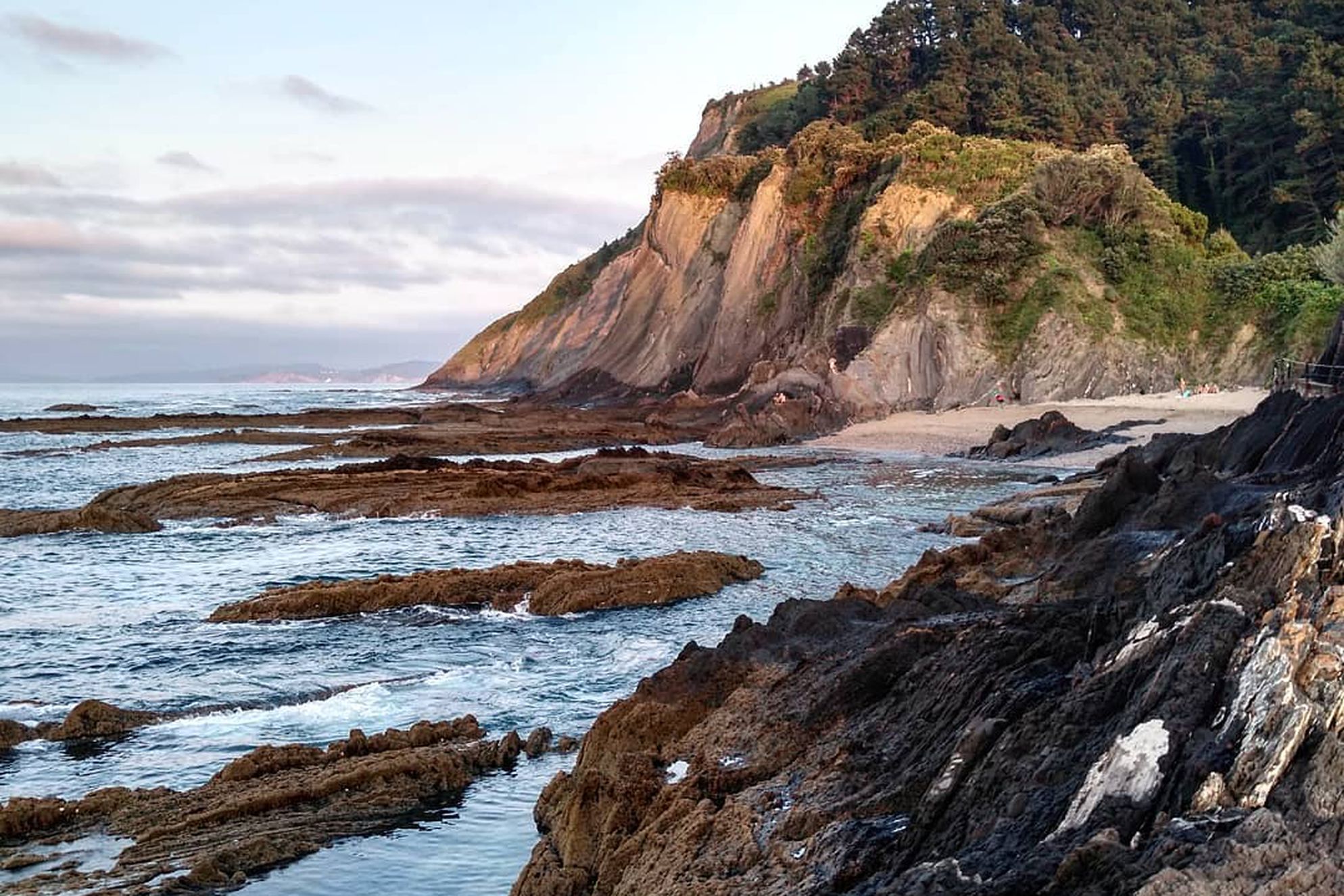 Escaping the crowds and finding little fishing villages and ports like

Elantxobe

, where fresh seafood is cooked on

parrillas

(outdoor grills)

The striking landscapes on the drive from Bilbao to San Sebastian

Enjoying a glass of the local wine,

Txakoli,

a slightly sparkling, very dry white that you'll find everywhere at low prices

Stumbling across modern art in the streets of Bilbao and San Sebastian, from the Jeff Koons' Puppy outside Bilbao's Guggenheim to the

Construcción Vacía

by Jorge Oteiza, defiantly facing the sea in San Sebastian

The carefully-preserved natural beauty – the region is home to several national parks and nature reserves such as Aizkorri-Aratz, Urikola Natural Park and the Urdaibai Biosphere Reserve

That food is integral to this region. There is a larger concentration of Michelin Star restaurants than most other places in in the world. There are 18 within a 25-mile radius in San Sebastian alone.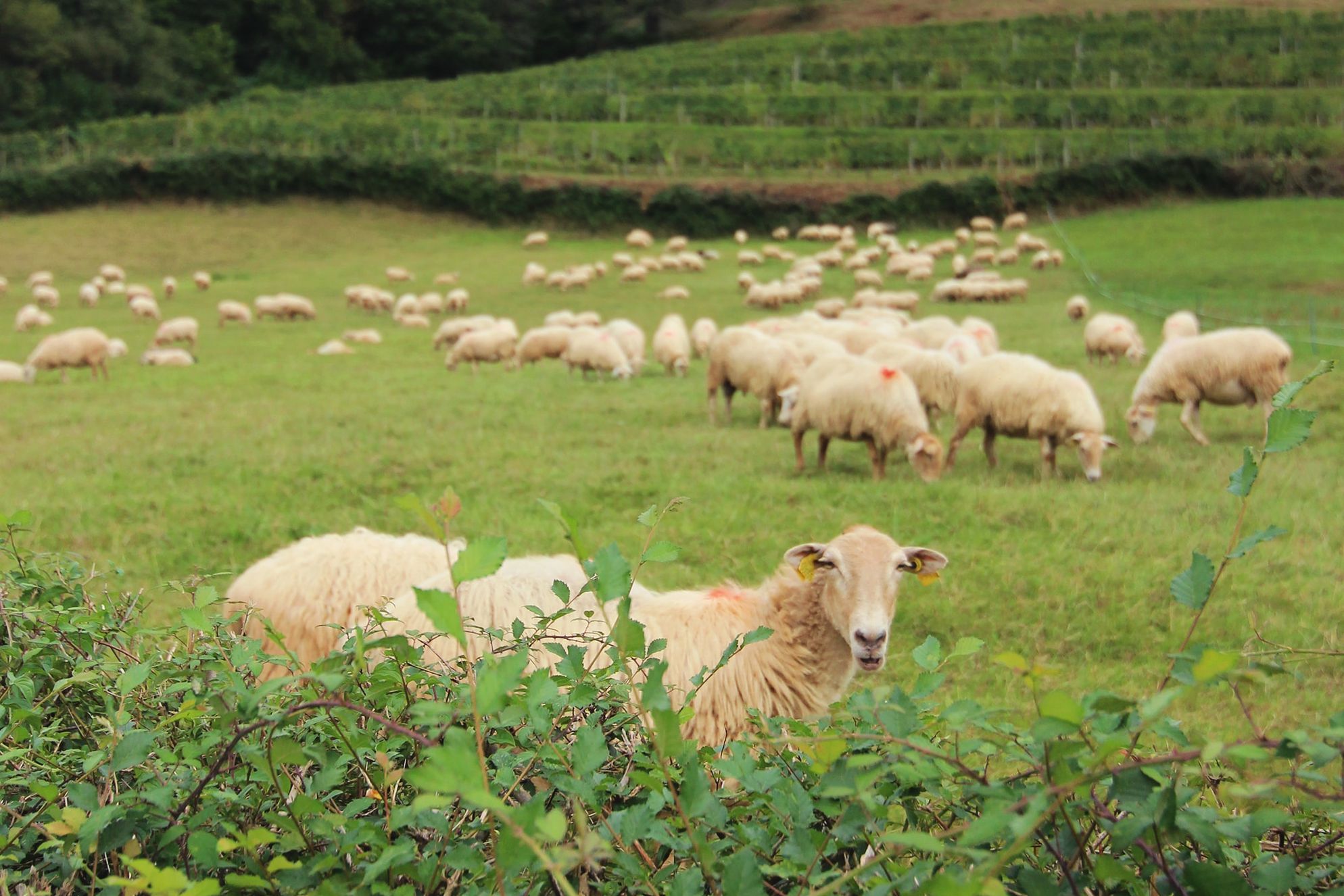 Weather: don't expect blue skies and high temperatures for the duration of your trip. There's a lot of rain in the region year-round (hence the green landscape!)

In some of the smaller villages you may struggle to find anyone who speaks Spanish, let alone English, although patience and a smile will always get you through

Vegetarians may find the traditional Basque menu limiting, especially if they don't eat fish

You'll probably need a car to get the most out of the region on a short trip. While there are beautiful rail routes along the coast, the trains aren't straightforward and a one-hour drive from Bilbao to San Sebastian by car takes 4 hours by train. The ferry option (Portsmouth to Bilbao) means you can avoid both flying and car hire.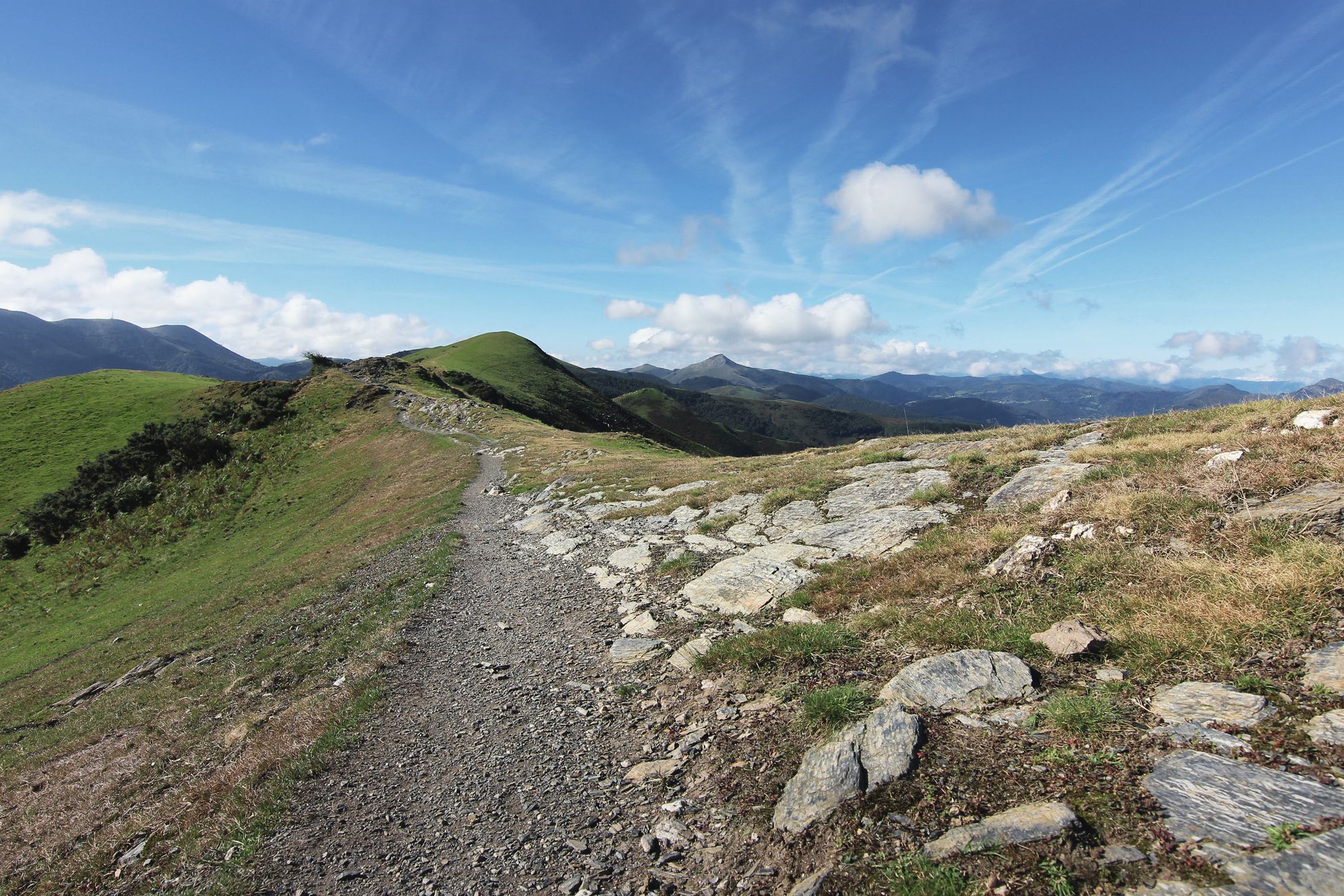 Thanks to cooler temperatures, spring is the perfect time to make the most of all the activities on offer with great hiking, cycling and kayaking.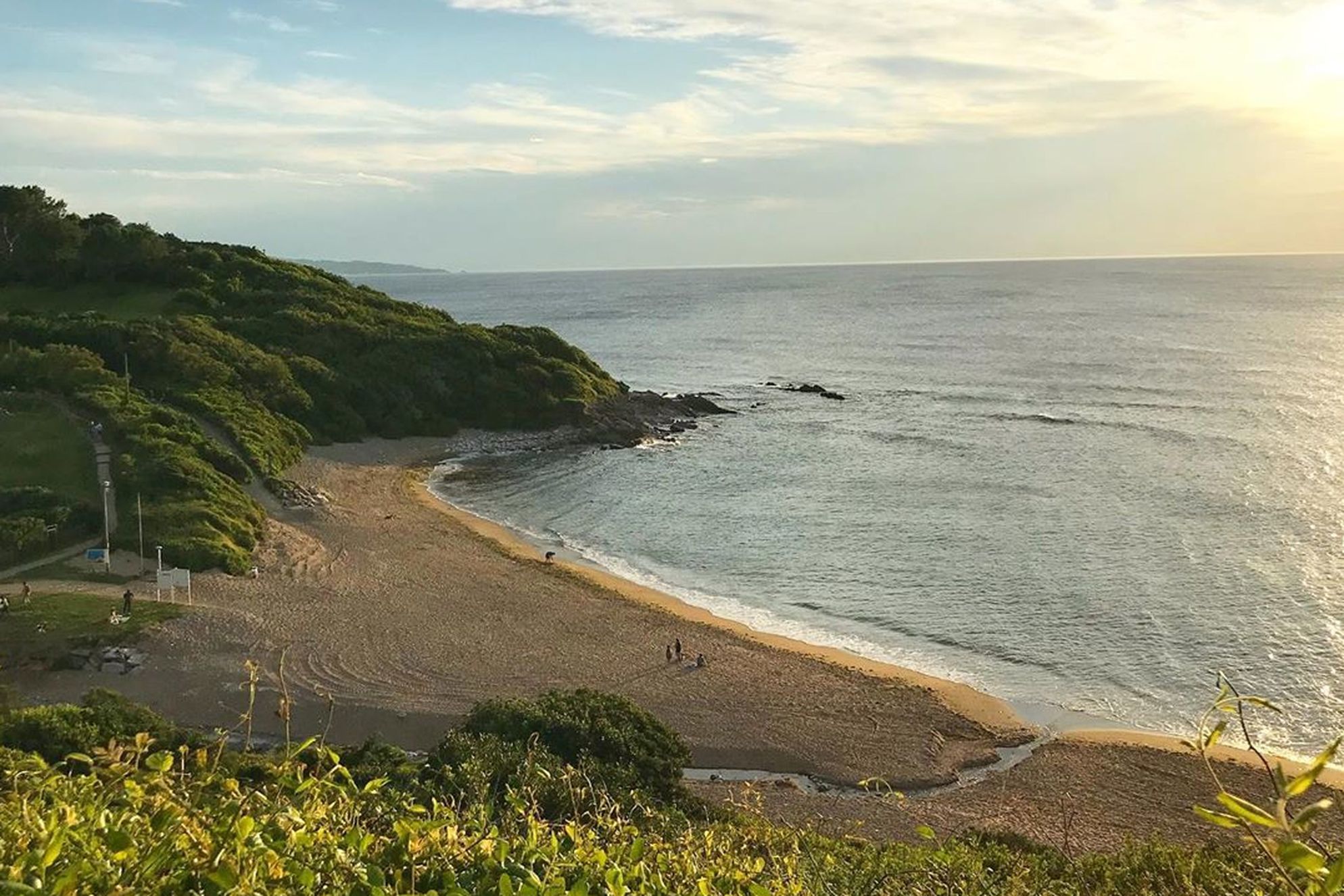 It'll be pretty hot, so stay near the coast and leap in and out of the sea at lovely beaches like Laga and Laida, two neighbouring sweeps of golden sand near Bermeo and Mundaka.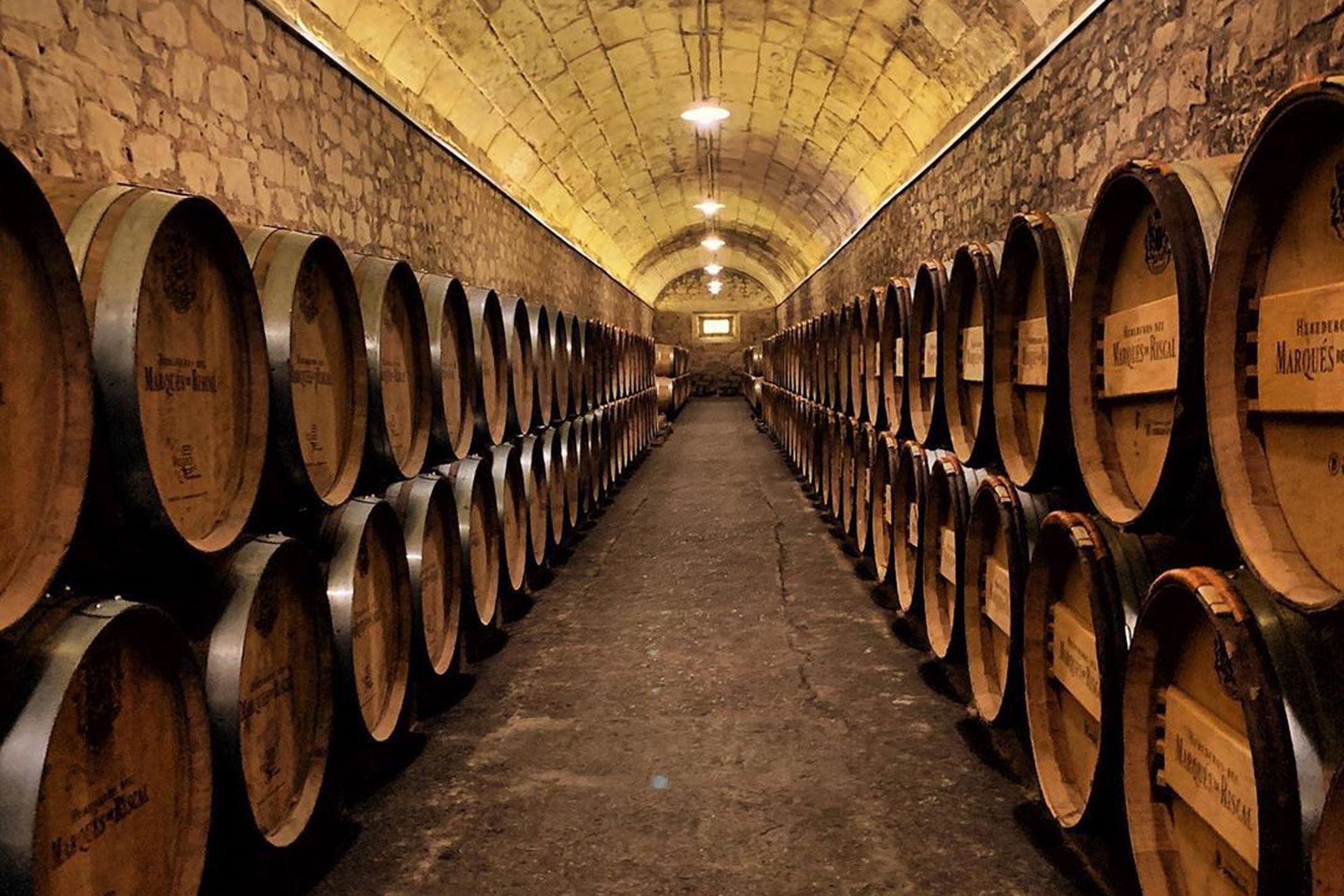 Locals told us that October is the best time to visit the region – you dodge crowds and peak season prices. It's also harvest time at the vineyards, and the glittering San Sebastian Film Festival takes place in September.
A brilliant time for a city break to Bilbao and San Sebastian, as the art and culture are naturally year-round. At night you can dash from pintxos bar to pintxos bar, stopping for a drink and a warming, spicy snack.
Getting out on the water – the region is well known for surfing (you'll see campervans pulled in at most lay-bys with boards tied to the roof) and kayaking and paddle boarding are available in plenty of places. Dolphins frequent the coast and boat tours  from Mundaka

 give you a great chance of encountering them

Visiting one of the many cultural centres – The most famous is the Guggenheim, with a permanent collection of contemporary art and a variety of temporary exhibitions. Our favourite is the Chillida Museum, a stunning open-air sculpture park close to San Sebastian
Hiking – Mount Txindoki is the Basque's Matterhorn, a jutting pyramidal peak with a variety of routes to the summit and stunning views once you're up. The spectacular Camino trail runs right along the coast and is one of the more rural routes taken by pilgrims heading to Santiago de Compostela
Wine tasting – the Basque Country has some great wine growing areas – Samaniego and Laguardia to name just a couple. You don't necessarily need to visit as you'll find their produce all over the region, but Laguardia's narrow medieval streets are worth a trip even without the wine.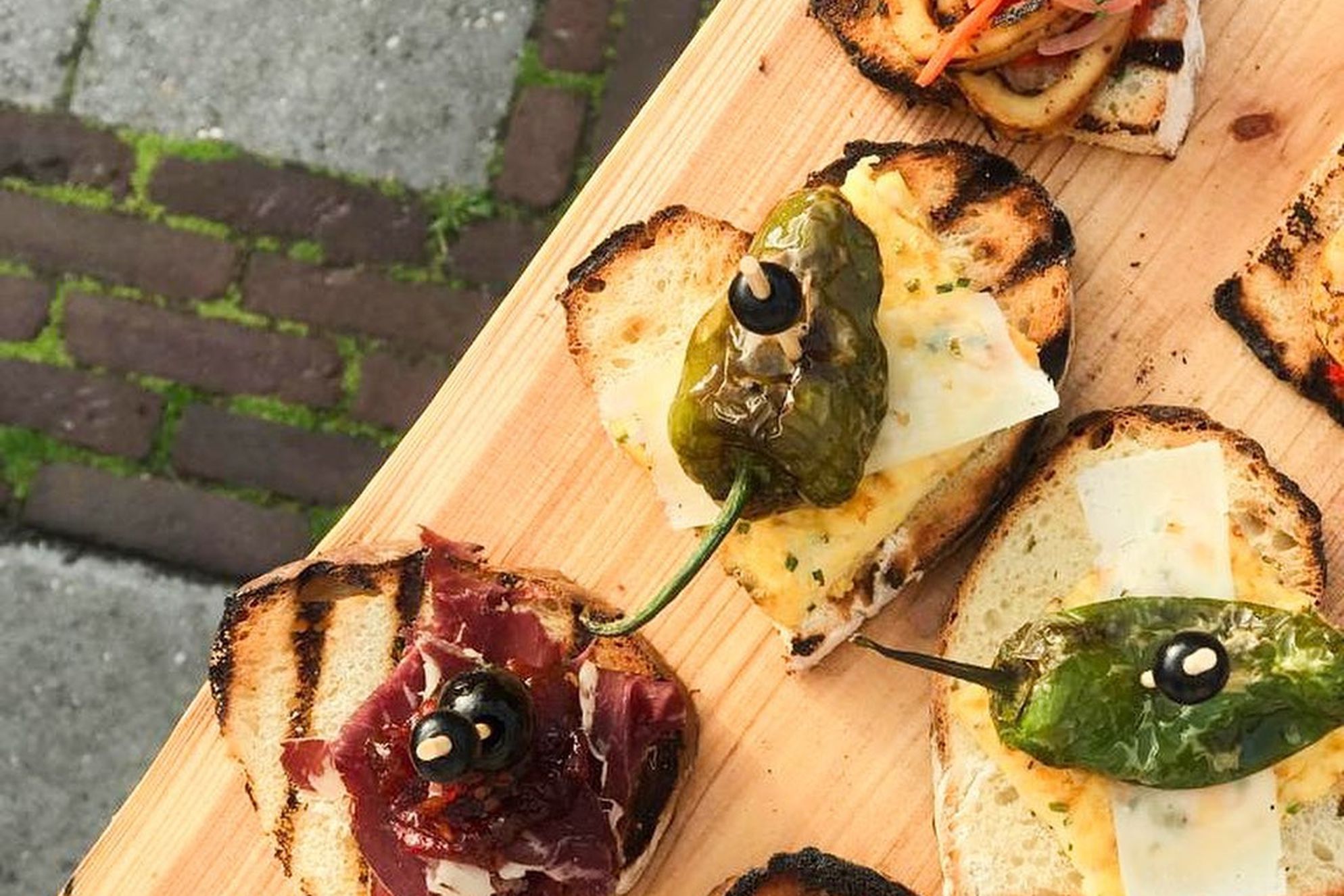 Fresh seafood cooked on parrillas

 in little harbour towns like Getaria, where chefs stroll along the harbour with armfuls of the latest catch. It's popular to choose a whole fish for your group with a few salads and bottle of Txakoli wine and the fish is usually served simply, with just a squeeze of lemon and minimal seasoning

Pintxos, of course – The Basque people are incredibly proud of their tradition – every local will have their favourite pintxos bar to recommend to you. Our favourite dishes included bread piled high with fresh crab and anchovies, croquetas with Spanish ham and manchego, and cod fritters with padron peppers. The traditional way to eat pintxos is to have one dish and one drink at each bar before heading to the next, with everyone pooling funds in a kitty as you wander the streets
Tolosa beans (black bean stew) – a traditional lunch that you'll find all over the region. The black beans are slow-cooked until they take on a silky texture, then served with olive oil and salt, or chorizo in some variations. Every November, the town of Tolosa, from which the bean takes its name, drops everything for the "week of the bean" a festival in the legume's honour
Our favourite destinations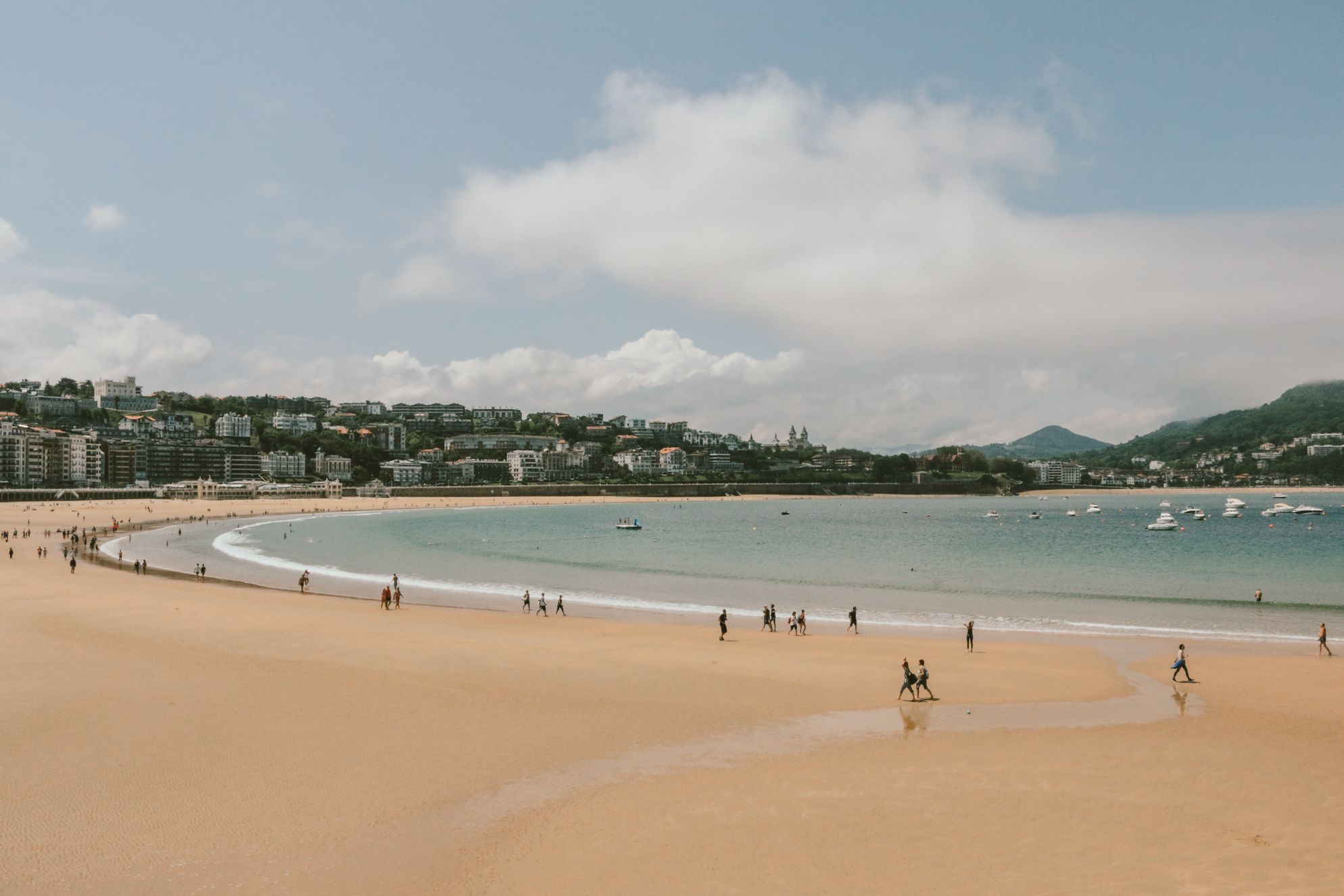 The city has something for everyone and is a lovely mixture of historic and modern architecture. There are plenty of interesting independent shops, including delis full of regional specialities like olive oil, salt fish and local wine, as well as gift and interior shops with woven baskets piled up outside and stacks of beautiful souvenirs inside. The old town is the place to go for pintxos and we made several stops on a long ramble down Abuztuaren 31. Over in the harbour are colourful streets of old fisherman houses, the Maritime Museum and the city's famous aquarium, with a tunnel passing through the oceanarium offering dramatic 360-degree views.
Bilbao has undergone profound urban regeneration in recent years, completely changing its appearance and boosting its self-esteem. The Spaniards call it, "the Guggenheim Miracle" and you can't fail to spot the gleaming curves of the Frank Gehry masterpiece. The building is only the beginning, as the art has spilled out into the streets, most noticeably in the form of the giant floral-patterned Puppy by Jeff Koons and Maman, a giant spider by Louise Bourgeois. The rain didn't stop during our stay in Bilbao, but it was still a joy to wander through the streets and see the stunning unique buildings, as well as the medieval old town which is buzzing with groups of friends eating, drinking and chatting.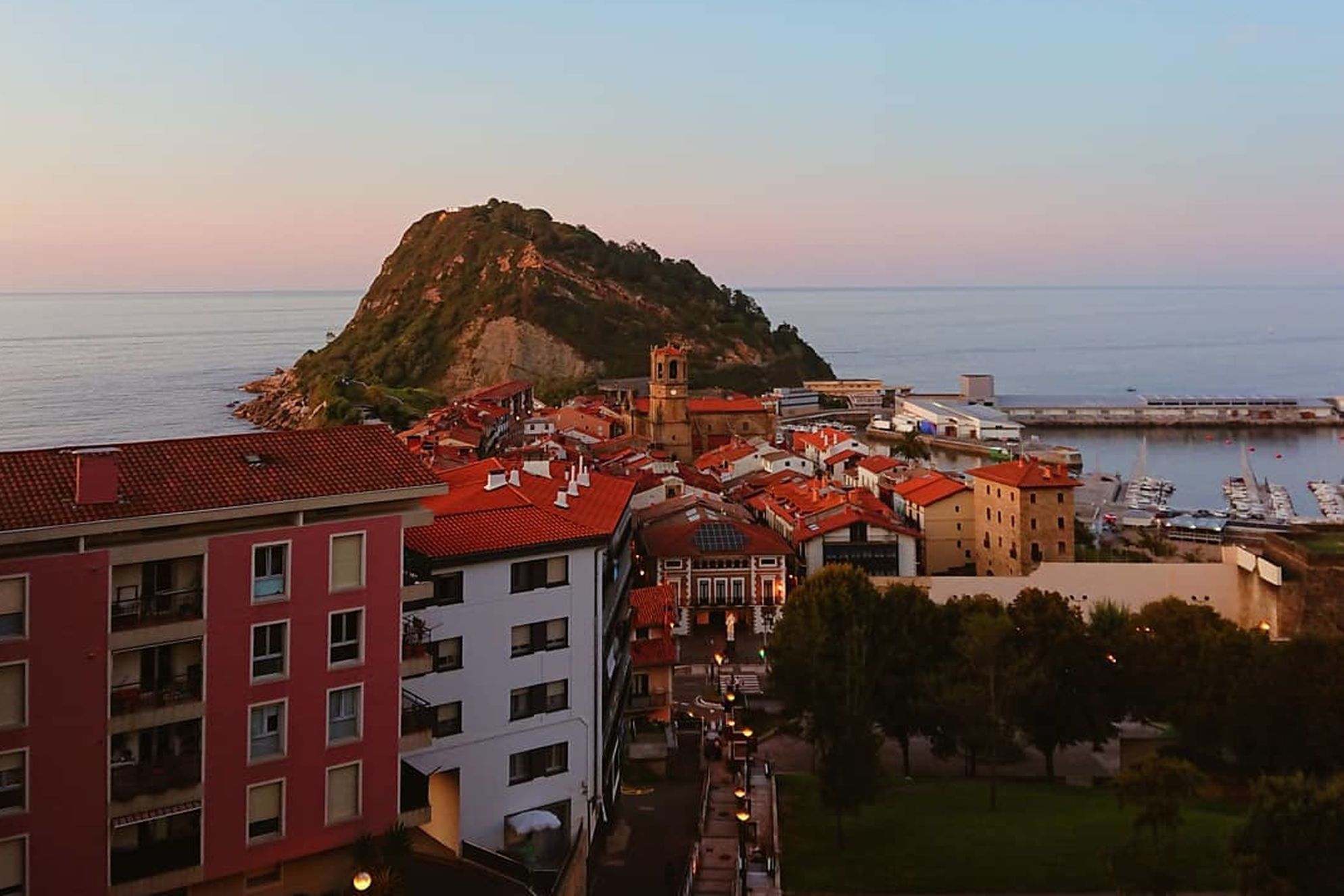 This is a favourite seaside town for Spaniards on summer holidays and it's easy to see why. The charming medieval streets are perfect for sitting outside with a drink and watching the world go by. It's famed for its local version of the slightly sparkling, very dry Txakoli wine and amazing seafood. Fish restaurants line the harbour, so it won't be difficult to find both high quality food and a stunning view. This is also where fashion designer Cristóbal Balenciaga grew up and there is a good museum in town that pays homage to his art and career.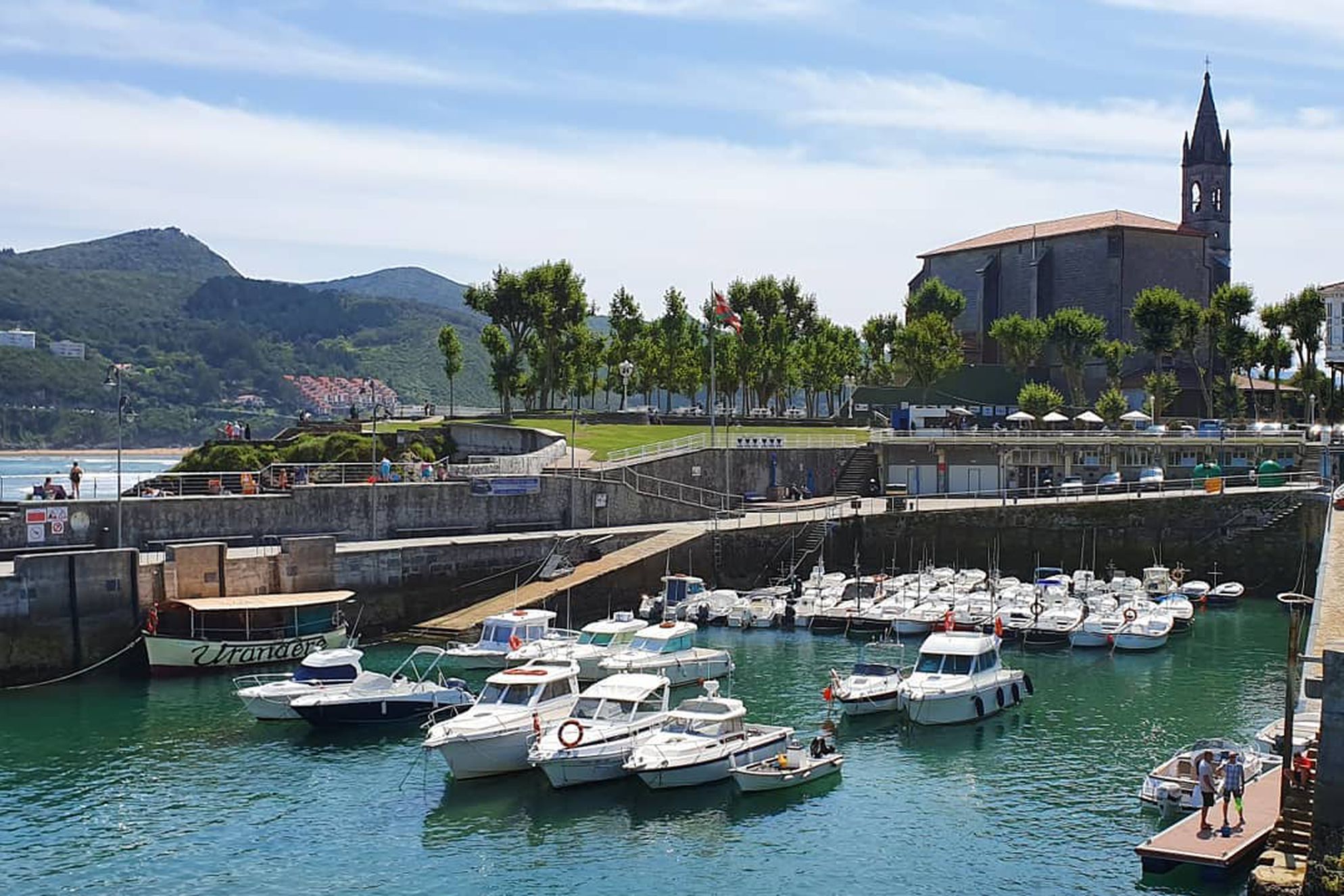 One of the loveliest villages on the Basque coast, Mundaka lies next to the mouth of the river of the same name, at the heart of the Urdaibai Nature Reserve. It offers stunning scenery, glorious sunrises and peaceful strolls along empty streets. It really feels as if you are living in a homely, authentically Basque village, particularly when staying at Atalaya Hotel, where Fernando gives a warm welcome.