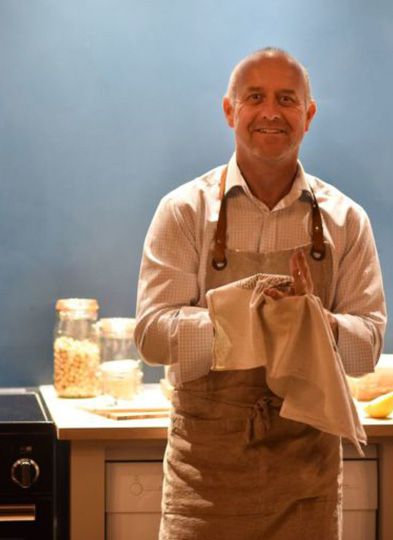 We serve 'à la table d'hôtes' at Manoir de Jouralem and almost all our guests decide to stay for dinner. Hywel's cooking is very popular! We serve in the garden or by the pool overlooking the vines whenever we possibly can. Our passion is to create food which makes people happy – between friends, family, 'en amoureux'.
Hywel tells the story of his dishes, the ingredients and the wines he serves by describing the families and the places which produced them, creating connections between everyone in that journey. It gives us great pleasure to show our guests everything about Anjou. Our guests often go off to visit the vineyards where the wines we have served are produced and it's delightful to hear them report back about their 'dégustations'!"
We are especially lucky to live in the Loire Valley, famous for it's abundance of fruit and vegetable growers and aptly nicknamed the garden of France. Seasonality is key for us – it's wonderful to enjoy great produce such as strawberries or asparagus at their best, at the time of year they are naturally good. It was a little bit of a culture shock at first, coming from the UK where you can get virtually anything at any time of the year, but here we have learned to cook around the seasons. We preserve a lot more too, making pickles, jams and chutneys. Our own potager garden is still most definitely a work in progress – we have learned to garden from scratch since we arrived here!
For recipes, we take our inspiration from all over – the many places around the world that we have visited, stayed in and eaten at. Having served in the Army for 52 years between us, we have travelled to so many places and experienced many different cultures, often moving house every 2 or 3 years. After living in Australia, Canada, Germany, to name just a few, we have found a true home in Anjou, for us and our children. And we just love showing it to people, and letting them taste it too!
---
Easy Wednesday: Cod with spring vegetables and beurre blanc
This beautifully simple dish is one of Hywel's classic 'table d'hôtes' dinner dishes in spring. The recipe can be adapted to include whichever young green vegetables look best when you go shopping. We love the sweet firmness of cod, but pollack and hake work equally well here. There is no need to worry about the beurre blanc – it's super easy to make and well worth a try!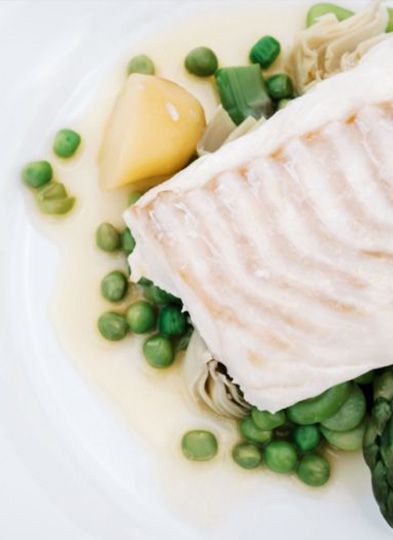 Ingredients (per person):
Cod fillet or equivalent
Two asparagus stalks
20g peas
20g broad beans (shelled), green beans or one artichoke heart (fresh is great but good quality tinned ones are perfectly acceptable)
One medium new potato cut into 1 cm cubes (simmer in salted water until they are still a little firm, drain and keep in the fridge until you are ready to finish the dish)
Method:
Mix together a tablespoon each of lemon juice, water and olive oil and drizzle over the cod. Season with salt. Bake at 180 degrees celsius for about 6 minutes (adjust according to the thickness of the fish).
At the same time, cook the peas and vegetables for two minutes, add the asparagus for two minutes, then add the cooked potatoes and artichoke hearts. Turn off the heat and leave for a few minutes.
For the beurre blanc sauce:
Slice a shallot cover it with 75ml white wine and 75ml white wine vinegar in a small saucepan. Reduce over a low heat to about a tablespoon. Add 250g cold butter cut into small cubes. Stir continuously. Do not let the butter boil. When the butter has melted, sieve the sauce to remove the shallot. Return the sauce to the pan and keep warm.
Plate the vegetables in the centre of a warmed plate and drizzle with two spoonfuls of sauce. Place the cod on top and spoon over a little more sauce – serve immediately.
---
Sunday experiment: Lamb cutlets with tarragon brioche pudding
This dish is a bit of a conversation-starter in the dining room at Manoir. It's a tricky thing to explain the savoury brioche pudding element to our guests, especially the French ones, but its gloriously buttery garlic and tarragon flavours pair beautifully with spring lamb. Our chickens lay the most beautiful orange-yolked eggs, which gives the pudding a lovely colour. The brioche pudding is well worth the effort and can be made ahead.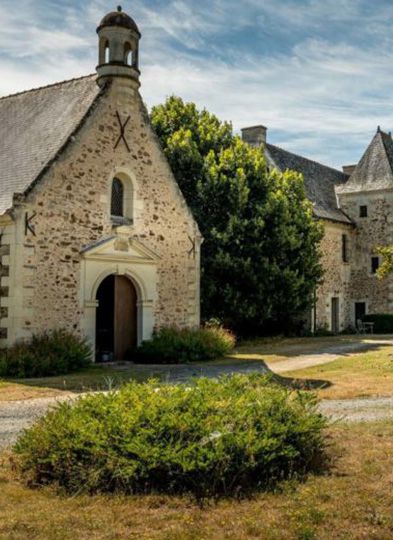 For the brioche pudding:
400g brioche loaf, crust trimmed off and cut lengthwise. Try and find one that fits your loaf tin neatly.
2 heads of garlic
Extra virgin olive oil
4 organic eggs
300ml double cream
20g tarragon, finely chopped
2 teaspoons unsalted butter, melted into 3 long slices, to the size of your medium-sized loaf tin
Salt and freshly ground black pepper
Method:
Preheat the oven to 200C (fan).
Slice off and discard the top quarter of each garlic head so that the cloves are exposed. Place the heads on a square of aluminium foil, cut side up.  Drizzle each head with a tablespoon of olive oil, sprinkle with salt, wrap in a tight bundle and roast in the oven for 35 minutes or until the garlic is soft and caramelized.
Remove from the oven, set aside for ten minutes and then squeeze the garlic cloves out of their skins along with the oil.  Put into a small bowl and use the back of a fork to crush them into a fine paste.
Crack the eggs into a bowl and whisk together with the cream, chopped tarragon, a teaspoon of salt and a couple of grinds of black pepper.
Lightly grease your loaf tin with olive oil and line it with parchment paper.  Brush a bit more oil on top of the paper once it's inside the tin.
Spread half the roasted garlic paste on top of one of the three slices of brioche.  Place the slice of brioche in the loaf tin and pour a third of the cream mixture over it.  Repeat this process with the second slice of brioche. Place the third slice on top and pour the remainder of the cream over. Lightly press down the top of the brioche so that it will get fully submerged.  Set aside for 30 minutes to let all the liquid soak into the bread.
Transfer the brioche pudding to the oven and bake for 25 to 30 minutes until it is cooked through and golden brown on top. Check that it is done by inserting a sharp knife through the middle: it should come out clean, like a checking a cake.  Let it rest for 15 minutes before removing the loaf from the tin, with the paper still attached, and allow it to cool on a cake rack. (Once cool, it can be kept in the fridge for up to 24 hours until you are ready to serve)  Remove the paper and cut the pudding into six thick slices.
For the lamb cutlets:
2 racks of lamb, 12 cutlets in total (serves 6)
salt and freshly ground black pepper
2 gloves of garlic
3 sprigs each of tarragon and thyme, plus a teaspoon each of picked leaves
400ml chicken stock
1 tbsp beurre manié (equal quantities of soft butter and plain flour mixed to a paste)
1 tsp lemon juice
French beans
Method:
Rub the two racks of lamb with salt and pepper and place in a roasting dish with 2 cloves of garlic and the sprigs of herbs. Roast for 15-20 minutes then remove from the oven and rest under a blanket of foil.
Put the chicken stock into the roasting pan with the pan juices and the lemon juice. Reduce by half and then whisk in the beurre manié until the sauce thickens.  Add the picked tarragon and thyme leaves.
When you are ready to serve, place a knob of butter in a frying pan over medium heat. Add the brioche pudding slices and fry for 2 to 3 minutes, turning once so that both sides are golden brown.
Serve the slices with a couple of lamb cutlets, French beans and the tarragon and thyme gravy.
More Inspiration…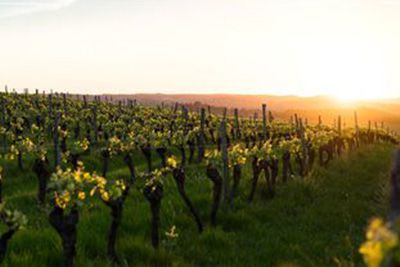 A guide to French wine regions
Our wine experts Micaela and Sue at La Grande Maison d'Arthenay, an idyllic wine-grower's house in the Loire Valley vineyards, specialise in wines and know them like the backs of their hands.
A foodie's 48 hours in Florence
We sent chef Alexandra Dudley to Florence and she sent us back a foodie's dream 48 hours. Here, she rounds up the best spots to eat the weekend away in Italy's quintessential city.
France holidays
Discover over 900 beautiful places to stay in France; from grand chateaux to rustic farmhouses and chic city apartments.