When a fisherman's cottage, Shrimp likely would have had a large family crammed into it quite happily, so there's plenty of space for a couple or a singleton desiring time alone. You walk straight from the pavement into the kitchen, then a table by a pretty window seat and a tiny, light-filled sitting room. Two vintage armchairs sit in front of an electric stove so you'll feel cosy, and you're surrounded by some quirky, end-of-the-pier style art. Morning tea or a sundowner will be lovely in the south-west facing courtyard with colourful pots.  
"It's tiny but lovely and everything is well thought-out, generous and attractive. A great little space from which to explore Cromer and if you hire bikes you can probably just leave the car in its spot for a whole week."  – Nicola, Sawday's Inspector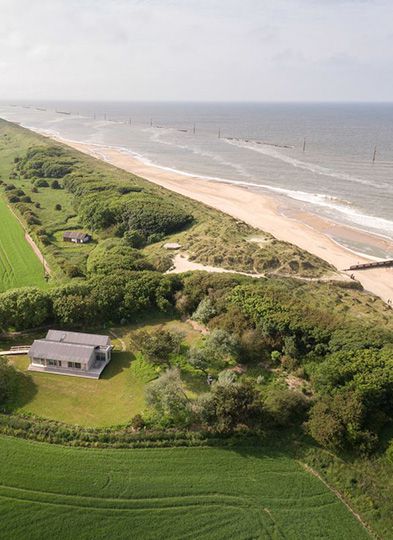 With the track to the beach running past the garden, the position of this eco-build is idyllic. Play cricket in the garden to the soundtrack of singing birds and crashing waves… and stargaze from the deck at night. 
Inside is super cosy, especially when a storm blows: this place is perfect for all-season stays. Come in winter for empty beaches, young seals on the sands and spectacular formations of geese. 
"Shangri-La means 'earthly paradise', and this place is certainly aptly named. A perfect location for a family holiday, with the beach just two minutes up the path, or walk your dog along the Coast path running in front of the house. A huge garden, kayaks to borrow and a fabulous welcome hamper all add to the experience. A well-equipped kitchen, BBQ & sunny decks make this a very special place."  – Mandy, Sawday's Inspector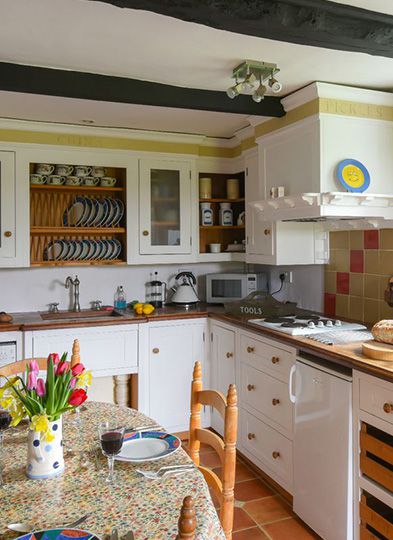 A Tudor manor house complete with a moat and a brick and flint cottage which once belonged to Banes, the gardener. You're free to roam the gardens on open days in spring and summer; guided tours of the house take place occasionally during the year. 
It's cosy inside with a real coal fire, plenty of games, books and DVDs. You're welcome to use the tennis court, and the lovely garden space with far-reaching views is the best place for a barbecue. 
"The garden is glorious and safe for children and one dog. So much to do and see nearby – be it wildlife, bird life, coastal walks, visiting stately homes or just messing about on the mudflats – and then return to a peaceful haven."  – Mandy, Sawday's inspector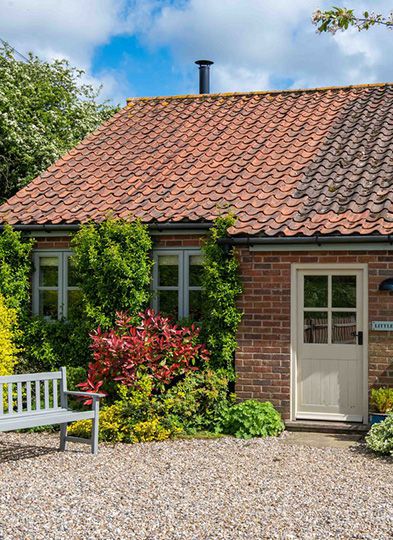 Down a peaceful country road through fields where horses quietly graze, to an 1880s Norfolk farmhouse with a glorious garden behind. Little Barn is attached but utterly private and Sally and Ken could not be more welcoming. 
French windows open to your own beautifully kept piece of garden with table and chairs for eating al fresco – you're free to roam the big garden too. A wonderful haven to return to after a day of blowy walks, crabbing, bird and seal watching, or exploring historic Holt. 
"Light, bright and airy with meticulous attention to comfort and style, it has its own private garden that leads out into the extensive and really beautiful garden of the main house. A warm welcome from the owners who are delighted to chat and share their love of the area while at the same time respecting the privacy of guests."  – Lisa, Sawday's Inspector
Glimpse this award-winning eco home through the lofty trees and wild grasses of deepest Norfolk. The open-plan living space has gleaming glass walls and a peaked ceiling soars skyward to a mesh of solid oak beams.  
There's plenty of space for all and the more intrepid will opt for the cosy mezzanine gallery up the paddle stairs. Study the OS maps that are pasted up for inspiration, fire up the barbecue in the garden on balmy evenings, stargaze on the veranda.  
"This place is so special. You drive into it from the end of a lane of ordinary houses and enter a world of its own, past the owners' house and lake. It's a contemporary house with glass all around and you feel as though you are in a special corner of nature surrounded by trees and birdsong. The energy flows through and around."  – Diana, Sawday's Inspector
More inspiration…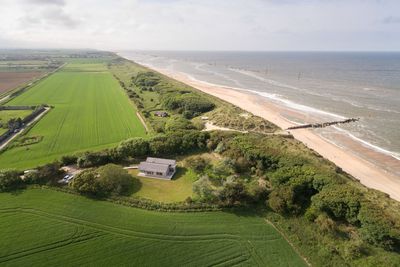 Norfolk holiday cottages
Discover popular place types, top destinations, great things to do and why we love Norfolk.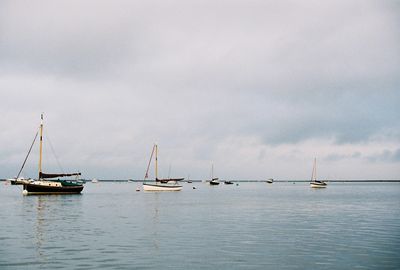 Our slow guide to Norfolk
Discover wildlife, rugged landscape and coastline as we uncover the best places to visit, walk, eat, drink and stay.
Browse all places in Norfolk
See all of our special places to stay in Norfolk including coastal cottages and converted barns.